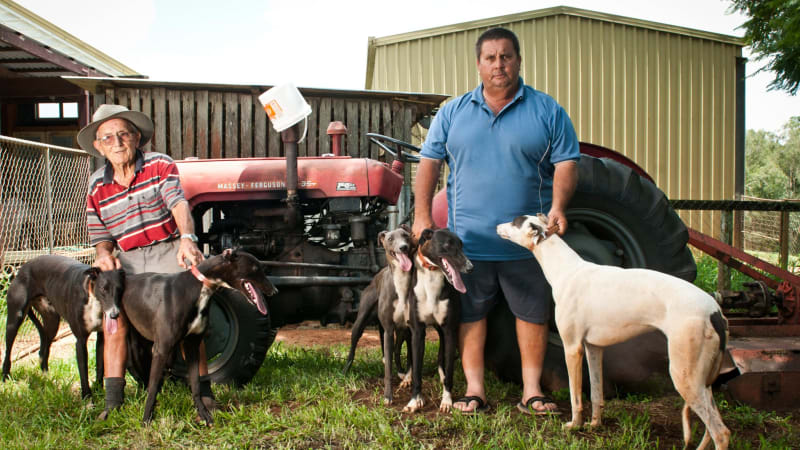 Tracy Kunde is a Queensland greyhound trainer.
He was present at the unofficial dog trials held at the track of the Churchable property of disgraced greyhound identity Tom Noble on the day that animal activists secretly filmed the infamous footage of a live piglet being tied to a mechanised lure and being chased around the track by fast running greyhounds.
When Kunde's presence at the scene was discovered by stewards he was charged with offences under section 86 of the Greyhounds Australasia Rules with failing to report the live baiting that he had witnessed to the relevant authorities, and after admitting that he was present on the day Mr Kunde was convicted of the offence despite his not guilty plea he was warned off – disqualified from the sport – by Racing Queensland.

Tracy Kunde appealed his conviction and sentence to the Queensland Racing Disciplinary Board, with the matter being heard on 27 July 2015.
After an inordinate wait of 4 months during which time the board was engaged in doing God only knows what, Kunde was finally advised on 26 November 2017 that whilst his conviction had been upheld, the Board had decided to reduce his disqualification period to ten years, which is longer than many people serve for manslaughter.
There were a couple of rather pronounced legal problems with the decisions of both quasi-judicial bodies however, and they were monsters.
The first was that Kunde had, like many others involved in the affair, been convicted on the basis of illegally obtained evidence placed by trespassers. Tom Noble had given no permission to activists from Animals Australia or any other organisation to come on to his property and plant secret cameras and recording equipment, and in accordance with well-established legal precedent the evidence of the recordings should have been thrown out of court leaving Kunde with no case it answer.
It wasn't though, and still hasn't been as those trainer who can afford to take their matters to appeal battle through the lower tribunals and courts. You can bet London to a Brick on though and back it for plenty that the minute the appeals start reaching the superior courts the evidence will be disallowed and the convictions will be thrown out of court, and the whole live baiting conviction regime will be proven to have been a farce.
The second significant issue involved in Kunde's prosecution was even more striking, because he had been charged under section 86 of the Greyhounds Australia Rules for an offence that allegedly occurred on the 22nd of August 2014.
The offence that Kunde had been charged with had however only passed into law on the 20th of April 2015 and it had no retrospective application, meaning that the greyhound trainer was being prosecuted for an offence that did not even exist at the time that he was said to have committed it.
What breed of amateurish prosecutors charge a person with an offence that they could not possibly have committed because the rule they were charged with breaching wasn't even a rule when he was supposed to have contravened it?
The prosecutors employed by Racing Queensland of course.
What sort of half-baked outfit with quasi judicial powers could possibly convict a person of a charge that wasn't on the books on the date they were charged with breaching it?
Racing Queensland of course.
What type of tin-pot quasi-judicial body upholds a conviction for an offence that clearly was not committed, for the simple reason that it wasn't a law when Kunde was alleged to have broken it?
The Racing Queensland extended arm the Queensland Racing Disciplinary Board of course.
The scary thing is that is was headed by a lawyer.
Brock Miller is his name, a partner in the well respected Vegas law firm Quinlan Miller Treston that was founded by his grandfather. You wouldn't want to be looking to Brock for legal advice based on this decision, that't for sure. What's that they say about shirtsleeves to shirtsleeves in three generations?
Tracy Kunde, who tells me that he was scratching his head wondering how he could be outed from the sport he loves for a decade on a charge that didn't exits proven my evidence that couldn't be admitted, appealed again, this time to QCAT and finally common sense kicked in, with member Robert King-Scott – a vastly experienced barrister who has been in the legal game for 37 years – finding the glaringly obvious.
A person can't be convicted of offences that didn't exist when they were alleged to have committed them, and Tracy Kunde could not be convicted of a 2014 breach of a law that wasn't introduced until 10 months later.
The decision was easy.
Charges dismissed, conviction set aside.
Tracy Kunde is an innocent man and can return to training greyhounds; if he can get a licence that is.
Racing Queensland have appealed the decision, on what grounds I have no idea because there don't appear to be any at all, and the matter seems absolutely clear: Kunde should never have been charged in the first place, and certainly should never have been convicted or had his conviction upheld at first instance.
It seems to me that RQ is simply throwing good money after bad pursuing this matter, and that they are going to cop a hell of a costs bill when the tribunal makes a long overdue decision on this matter that was heard almost 6 months ago, and the racing control body's frivolous appeal is thrown straight out the window for lacking any grounds or substance at all.
I guess old Eliot 'E.T.' Forbes – who is still to address the questions about his proximity to animal cruelty in Asia and Arabia, and tell us what steps he took to stamp it out, if any -believes that he has to follow the matter through to the bitter end, because if Tracy Kunde's quashed conviction stands then a whole lot of other are going to fall over too.
And if that happens the whole live baiting over-reaction that led Alan 'The Oarsman' MacSporran to bizarrely find that a bunch of blokes standing around a dusty paddock in Logan watching dogs chasing a little pig tied to a lure justified restructuring the entire industry – and punishing the innocent harness and gallops industry members in the process – all starts to look really somewhat thin.
Just like it always was.
A lot of people are watching and waiting on this QCAT racing appeal, including most of the greyhound racing industry.
I suspect that there are going to be a whole lot of red faces when it is handed down.
And that the clowns with the red faces won't be the one's with a collar and lead in their hands.
We'll let you know the appeal result when it finally comes to hand.
I wonder if ET will answer any of the hard questions before then?