The two-year-old Magic Millions is a three horse race according to the bookmakers, but they've got it wrong.
It's a dead set match race.
E Troop v Sunlight.
Jonkers can't win.
It begins too ordinary, takes far to long to pick up and get the gears going, and doesn't run fast enough time.
You might be able to begin moderately in small fields against average commodities at Newcastle and Wyong and then scoot up to the front, but Jonkers isn't going to have that luxury in a capacity 16 horse field at the Coast, so no matter where it draws the David Atkins trained colt is going to have traffic problems, and Hughie Bowman is going to have to ride a pearler to get him through the ruck and find a position early.
No-one who watched the great man's ride on Fortensky in Race 3 at Randwick yesterday would doubt he could do it, but the one thing Hughie can't do is improve the horse a length in speed, and that's what would have to happen if Jonkers were to have any chance whatsoever of matching it with the big two on Saturday.
Jonkers had the perfect run in the Wyong Magic Millions at his last start, and he was pushed out pretty much all the way to the line, but the best he could do was run a time that was 1.8 seconds outside of the course record, and he only ran home his final two furlongs in 34.85, and that's simply not fast enough to win the 2nd best two year old race of the season.
He's the lay of the day.
The only other horse I give a hope is Quackerjack, who looked only slightly above ordinary winning first up at Kembla Grange a couple of weeks before Christmas when he ran 2.43 seconds outside the track record over 1000m trip, but seemed to have improved out of site when he knocked out a couple of hitherto well fancied Millions hopes in the Open 2YO at Randwick on the 30th of December.
Quacker's time of 1.3.38 wasn't scintillating – he ran 1.83 seconds outside the course record on a Good 4 track – but that record is held by Redzel and he's perhaps the best and also the most under-rated sprinter in the world.
His last sectional of 34.66 wasn't terrific either, but you have to temper that with the fact that Quacker was three wide the trip, and the way he finished off the race and finished off Secret Lady – who had all the favors in running and on that run is a squillion to one chance of winning the Millions – would have brought a big smile to the face of the colt's connections I'm sure.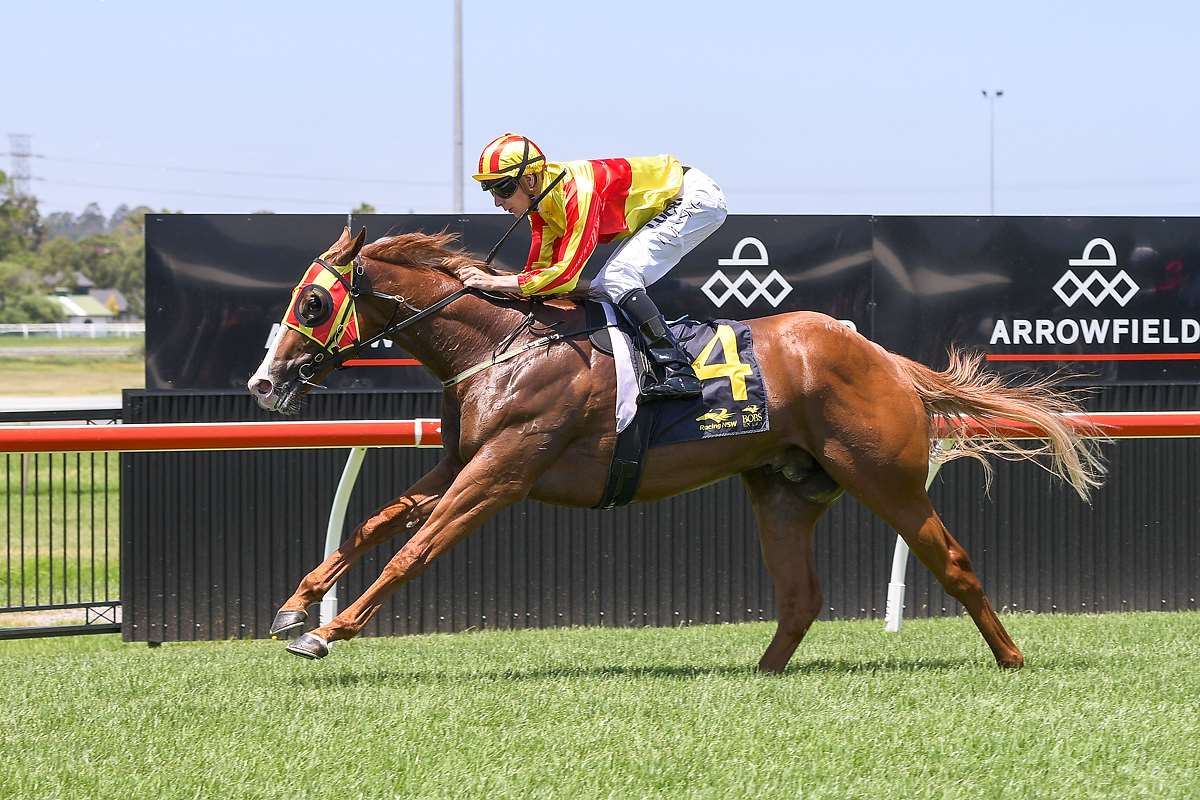 I suspect that Gai's former right-hand man Mark Newnham, whose team has been kicking good goals since he took up boxes at Randwick mid-way through last year, still has a bit left in the improvement tank of young quacker so if they favorites go crazy cutting at each other early he might just be a knockout chance to come over the top of them and snatch the biscuits at the big odds on the weekend.
That takes care of the one in the market who can't win and the one not in the frame who can, and I don't give any other horse in the race a chance unless it buckets down like it did in the days of Noak's flood or something crazy happens such as a front runner hanging off on the turn taking a half a dozen of the others of the fancies with him and tipping them over the outside rail.
Which whittles us down to two.
It would have been three if Ardoyne Road had made it to the barriers, but sadly the chatter coming out of Clifford Park suggests that Nozi Tomizawa tanked the filly so badly with his rodeo ride in her amazing win at Doomben that she might never set foot on the track again, which would be a terrible shame for trainer Tony Sears and the connections because the little girl looked like being absolutely terrific.
She's not going to be there on Saturday though, but Ef Troop and Sunlight are, and wouldn't you just love to have shares in either of these super-impressive steeds? One of them is London to a brick on to win its connections a lazy fortune in the 2YO Classic, and all things being equal and barring bad luck both of the pair are gimmes to go on to win some top shelf races during the career – perhaps even a Golden Slipper – and earn their owners an absolute stack.
Ef Troop has already proved the bingo caller's old dictum of thirteen being lucky for some by returning its footy team sized syndicate of owners almost double their $70 000  outlay in less than 12 months, and  – given that there's no lush Coolmore or Godolphin pasture and hot babe mare future ahead for him thanks to the cruelest cut of all being applied when he was a kid – on what we're seen already we can expect to see him drag a whole lot more of the folding stuff on the track over the next five or six seasons if the you beaut of a gelding stays sound and retains his zest for racing.
I've always said that as good as his racetrack record was – and it was top shelf – Spirit of Boom's stats would have been a whole better if the ultimate gear change had been applied. I'm sure I am right but of course if it had we wouldn't be here talking about the stallion as the sire of the Magic Millions favorite, and the lucky folk holding shares in Spirit wouldn't be looking at Lamborghini brochures and planning three month holidays on their newly built yachts either, so bully for my opinion.
We'll never know how good Ef Troop might have been if he hadn't been nutted, but we do know that the gelding is absolutely outstanding and on the strength of his 8.5 length and 20 length barrier trial wins and his two race day starts to date I reckon the Gollan trained runner is the best of good things in the Millions Classic and only bad luck can beat him.
When was the last time you heard of a two-year-old running 0 .61 seconds outside the track record? Or flying over its last 600m in a scintillating 33.17 seconds?
The year before when Houtzen ran 33.16 at its first start is when; two runs later she made her rivals look silly in the Millions.
Houtzen's Golden Slipper conquerer She Will Reigndid it too, missing the Kembla Grange 1000m track record by the barest possible  margin of 0.1 of a second on debut, and running her last 600m in a scarcely believable 32 seconds neat in her stunning 8.3 length win. That's Black Caviar like time.
No it's not.
Cav 'only' ran her last 600m in 32.76 at her 2YO debut – just .41 faster than Ef Troop and down a straight track, not around turns, but admittedly under double wraps – and took until her five-year-old season until she bettered She Will Reigns first start sectional when the greatest sprinter in Australian history obliterated the Flemington track record running 55.53 and coming home the last three in 31.82.
This was a super horse, the winner of $6.7 million in 25 undefeated starts: She Will Reign was just an early season 2YO filly. How the hell did we all not back her in the Slipper?
Bloody hell, we must have been stark raving mad.
Trivia question: Who rode She Will Reign that day at Kembla? Answer at bottom.
Back to 2018, and here are the 600 splits that Ef Troop has run in his two race starts and one trial that was section timed to date:
33.75 -Barrier trial Doomben 31/8/17
33.81 – First start Doomben
33.17 – Second start Doomben
In between its two wins Ef Troop ran 59.48 hard held in a barrier trial at the Gold Coast track where Saturday's big race is being run, and it did it on a Soft 5 track to boot.
Wow!
Two-year-old's just don't do this sort of thing start after start, not since the days of Luskin Star and Rancher at least. They might run an incredible time like She Will Reign and Houtzen did on debut but they don't run sub 34 splits three times in a row and probably for like Ef Troop has. It's just unheard of.
A couple of days before Christmas I was chatting to Chris Munce about this and that and asked him who the best young horse he'd ever ridden was, and the former champion jockey turned on the rise trainer declared in no uncertain terms that is was Dance Hero, winner of the 2004 grand slam of the Millions, the Slipper, the Sires Produce and the Champagne Stakes, and the only horse ever to achieve the feat.
The fastest last 600m that Dance Hero ever ran as a two-year-old was 33.94.
Numbers don't lie. Ef Troop is an absolute superstar, and I'd be declaring him over the line and saying he is the bet of the century if it weren't for just one little thing.
Sunlight is a superstar too.
The $300 000 yearling couldn't have been any more impressive at the Coast on the weekend if she'd picked the other runners up and carried them on her back, lumping 58kg over the 1100m and making her opponents look silly while running 34.02 for the last three furlongs under the softest of rides.
How many young fillies only four and a bit months into their 2-year-old year carry that sort of weight or run those sort of times? Not many, if any, but that's nothing compared to what she did at the Coast the start before.
Remember what I said earlier about Ef Troop running a sequence of times that put it head and shoulders above all of the other two-year-olds of recent years?
Well Sunlight's done it too.
She ran 33.12 for the last 600m in its debut performance in the Maribyrnong Trial down the Flemington straight at her debut in early October, and then the filly made that sizzle look like a rain soaked sausage when she scorched over the last 600m first up in an 900m dash at the Coast a couple of days before Christmas in an OMG! 32.20 seconds.
That's low flying and so is this filly.
Under the set weight scale of the big race Sunlight drops 3kg and receives a 2kg advantage over Ef Troop which puts her into the Magic Millions Classic right up to her eyeballs, and even further beyond. I'd hate to be giving this little girl 2kg I can tell you, but equally I would hate to be racing Ef Troop for 2 million bucks too.
So which one is going to win?
It all comes down to the barrier draw.
Never in the history of the Magic Millions has a race been so evenly matched between juvenile sensations, and never has a marble plucked out of a barrel been so important.
Houtzen may have won last year's Millions from the extreme outside gate, but as it turns out by looking at the runners subsequent form she wasn't up against all that much, and the huge edge in speed and class she held that took her all the way to the Everest summit less than a year later allowed her to burn the candle at both ends and still bolt in.
Neither Sunlight nor Ef Troop has that advantage this year because each is as good as the other and they have to take on each other, so if one draws in and one draws out the horse bouncing from the barrier closer to the rail is the one who'll snatch the choccies.
You can get $4 or better the pair, which means that if you back them both you get evens and a little bit more, and if you back them both and save by putting the little bit more on Quackerjack just in case of an emergency then I reckon you will be walking away from the track at least twice as rich as you were when you came through the gates.
This is going to be a race for the ages, so if you love racing like I do then get your arse off the couch down to the Goldie on Saturday, grab a drink, sit back and enjoy the show.
It's going to be just dynamite.
Don't you worry about that.